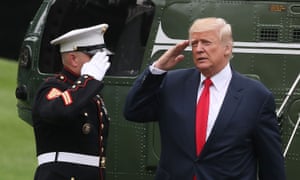 "Donald Trump finally issued a direct condemnation of racism on Monday after criticism of his response to the violence in Charlottesville, Virginia, which left one woman dead.
On a brief visit to Washington, the president used an address from the White House to say: "Racism is evil and those who cause violence in its name are criminals and thugs, including the KKK, neo-Nazis, white supremacists and other hate groups that are repugnant to everything we hold dear as Americans."
The explicit remarks came after a storm of criticism – some from prominent figures in his own party – over his decision not to directly condemn the white supremacy groups that targeted Charlottesville, Virginia, at the weekend.
But Trump stopped short of describing Saturday's violence as an act of terrorism, as attorney general Jeff Sessions has done."
Trump finally condemns Charlottesville racism, days after violence | US news | The Guardian