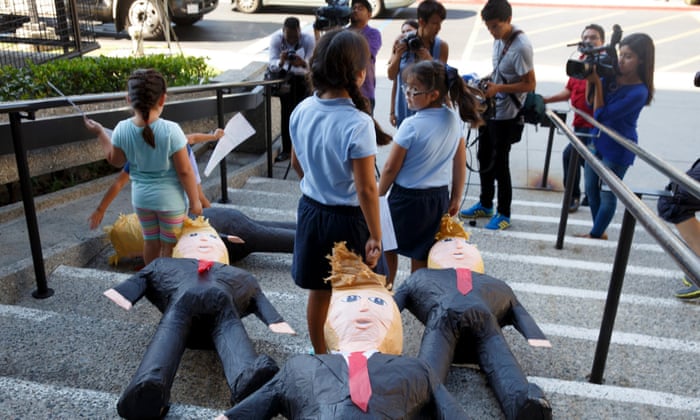 "A top Republican senator has challenged Donald Trump to make "a moral decision" on the fate of hundreds of thousands of undocumented immigrants brought to the US as children, part of a revamped bipartisan push to grant permanent residency to so-called Dreamers.
"The moment of reckoning is coming," South Carolina senator Lindsey Graham warned the president and his Republican colleagues at a press conference Thursday to unveil a new iteration of legislation known as the Dream Act.
Graham was joined by Illinois senator Dick Durbin, the Democratic cosponsor of the bill who first introduced legislation of the same name 16 years ago. Their proposal, which mirrors previous legislation that failed to pass Congress multiple times, would grant legal status and a path to citizenship to Dreamers if they were longtime residents of the US.
In a sign of tough odds facing the bill, the White House swiftly rejected the notion that the president would support such a measure.
"The administration has opposed the Dream Act and we are likely to be consistent in that," said Marc Short, the White House legislative affairs director, in an off-camera briefing with reporters on Wednesday.
Graham acknowledged the president's candidacy was rooted in a hardline approach to immigration but cast the debate as an existential question for the party that now controls the White House and both chambers of Congress.
"President Trump, you're going to have to make a decision," Graham said. "The campaign is over."
Senators to Trump: take a 'moral' stand on immigrants | US news | The Guardian