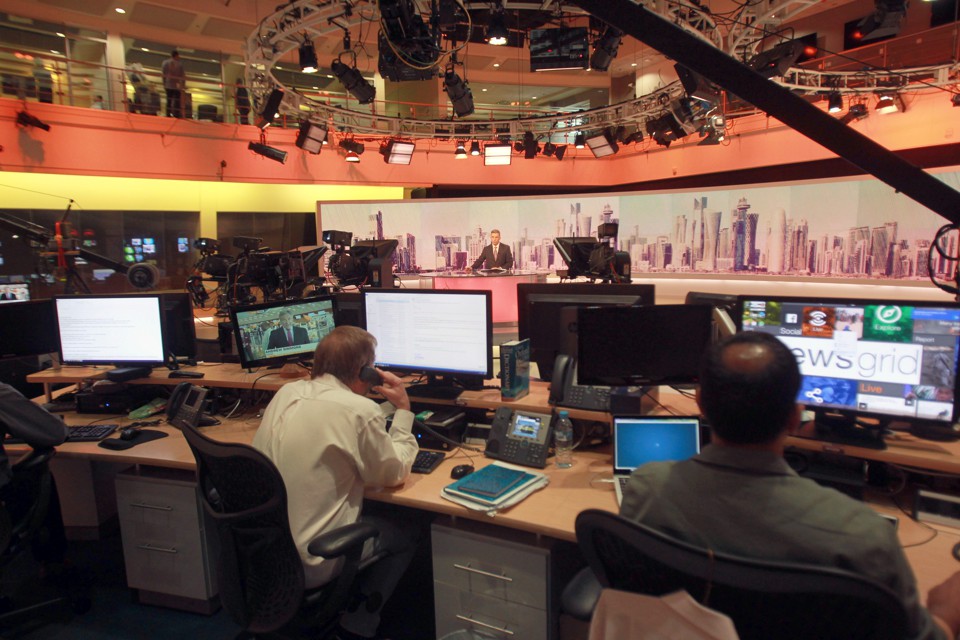 "There was, and still is, a vast gulf between AJA and Al Jazeera English, which was launched in 2006. They share a name, but little else, even operating out of separate buildings across the street from each other. Their editorial lines are also sharply different. In February 2011, days after Mubarak resigned, citizens of Bahrain started their own anti-government protests, led by the country's Shia majority, which has long suffered under an official policy of discrimination. Saudi Arabia soon sent troops to help quash the uprising, which Gulf leaders viewed—without any credible proof—as an Iranian plot to undermine a fellow monarch. AJA largely stuck to the official line. The English-language channel was far more critical, and even won a Peabody Award for a documentary on the brutal crackdown. I made several trips to Bahrain myself, and never felt any pressure to change my reporting.
The climate changed in the summer of 2013, after the Egyptian army overthrew Mohamed Morsi, the elected Muslim Brotherhood president. On August 14, as security forces were brutally clearing a pro-Morsi sit-in, an Al Jazeera English presenter asked a Brotherhood spokesperson a valid question: why were women and children still present at a protest that would inevitably be targeted by the authorities? The anchor was almost immediately pulled off the air and reprimanded for being insufficiently sympathetic to the group. For months, she was barred from presenting the news and relegated to a pre-recorded chat show. There was also an internal struggle over how to cover that summer's protests against Turkey's Islamist president, Recep Tayyip Erdogan.
Still, much of the English programming remains fair and objective—adjectives that no longer apply to its Arabic sister channel..."
Al Jazeera Is At the Center of the Qatar Crisis - The Atlantic