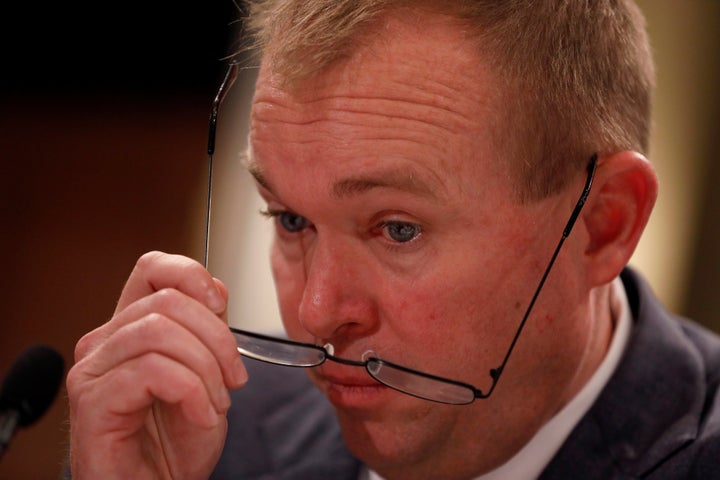 "WASHINGTON ― Citing the Bible and expressing his sympathies in advance, Republican South Carolina Rep. Mark Sanford savaged President Donald Trump's budget proposal Wednesday as a "myth" and a "lie," hammering the White House's spending plan more thoroughly than any Democrat.
Sanford, the former governor of South Carolina who has a contentious relationship with the White House, simply did not accept the contention offered by Budget Director Mick Mulvaney in a House Budget Committee hearing that the economy is going to grow at 3 percent for the next 10 years.
The White House uses that growth estimate to argue that, despite cutting taxes dramatically for the wealthy, tax revenues will actually rise so that the budget will balance in 10 years. The nonpartisan Congressional Budget Office estimates growth rates of just 1.9 percent.
"I have looked every which way at how you might get there, and you can't get there," Sanford told Mulvaney.
The South Carolinian, who describes himself as a budget hawk, went on to lay out all the ways that using a bogus estimate is terrible.
"What it does is it perpetuates a myth that we can go out there and balance the budget without touching entitlements," Sanford said. "It's not only a myth, it's frankly a lie."
Sanford offered some basic history to challenge Mulvaney's assumptions. For starters, he noted that the average economic expansion in all U.S. history lasts about 58 months. The current expansion begun under President Barack Obama has been underway for 94 months. The Trump budget, Sanford noted, assumes that will continue uninterrupted for an additional 214 months.
"This budget presumes a Goldilocks economy, and I think that's a very difficult thing on which to base a budget," Sanford said. He also noted that the Bible cautions against building a house on sand.
Sanford took specific aim at the unemployment, growth and inflation rates the budget relies on.
"Can you guess the last time we had an unemployment rate of 4.8 percent, growth at 3 percent, and inflation held at 2 percent?" Sanford asked. "It's never happened," he answered, when Mulvaney didn't."
A Republican Congressman Just Destroyed Trump's 'Lie' Of A Budget | HuffPost