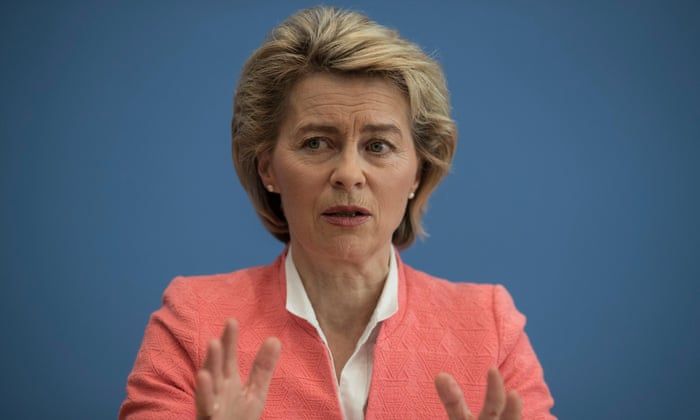 "The German defence minister, Ursula von der Leyen, on Sunday rejected Donald Trump's claim that Germany owes Nato and the US "vast sums" of money for defence.
"There is no debt account at Nato," Von der Leyen said in a statement, adding that it was wrong to link the alliance's target for members to spend 2% of their economic output on defence by 2024 solely to Nato.
"Defence spending also goes into UN peacekeeping missions, into our European missions and into our contribution to the fight against [Isis] terrorism," Von der Leyen said.
Trump, who was spending the weekend at his Mar-a-Lago property in Florida, said on Twitter on Saturday – a day after meeting the German chancellor, Angela Merkel, in Washington – that Germany "owes vast sums of money to Nato & the United States must be paid more for the powerful, and very expensive, defense it provides to Germany!"
His words prompted criticism, also published on Twitter, from a former permanent representative to Nato under President Obama.
Ivo Daalder, permanent representative from 2009 to 2013, wrote: "Sorry, Mr President, that's not how Nato works. The US decides for itself how much it contributes to defending Nato. This is not a financial transaction, where Nato countries pay the US to defend them. It is part of our treaty commitment.
Trump has urged Germany and other Nato members to accelerate efforts to meet Nato's defence spending target."
Germany rejects Trump claim it owes Nato and US 'vast sums' for defence | World news | The Guardian